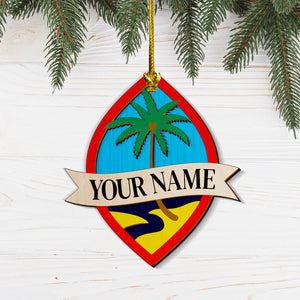 'Tis the season to deck your halls with Island Life's newest Personalized Guam layered wood ornaments! Each was cut with precision and printed with top-notch quality, turning it into an unforgettable Xmas keepsake!
Features
Size: 4×4 inches
Material: Ash Plywood – Polished, lightweight, durable wood with a natural bright grain. This material has a high tolerance in humid environments
UV printing and Laser Cut technology create details with high precision
Custom Layered Wood Ornament comes with a small hole that can be used to hang the ornament

Layered Wood Ornament: 6-mm thick ornament with a special dimensional effect
Includes 3 hanging options: red ribbon, gold cord, jute twine
Shipping
Each ornament is made to order just for you and takes about 3-5 business days before it's shipped out.
$3.99 Standard Shipping: 10-20 business days
Please note: Due to the handmade nature of this product, slight shifting in the print, visible cutting marks, or slight blemishes may occur.