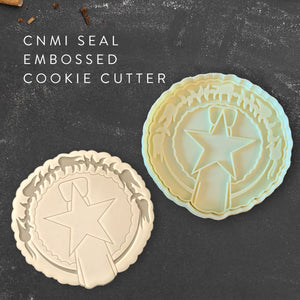 New! CNMI Seal embossed cookie cutters! Embossed cookie cutters stamp an inner design into the cookie which gives you the flexibility of adding icing or not. This set comes with a cookie cutter and a separate embossing stamp.

They stand out on their own so decorating isn't necessary! Now you can show off your island culture at parties or just at home with family. 
Limited Quantity Available
Features
Size: 4" at its widest and 0.5" deep
Made from eco-friendly, food safe materials
Creates the perfect cookie with clean cut edges
Durable and easy-to-use design
Scalloped edge to keep your hands clean
Shipping
This item is ready to ship!
$3.99 Standard Shipping: 5-7 days continental US, 7-20 days rest of world

Care Instructions
Hand wash your CNMI cookie cutters with cold water to preserve it for long time use. Do not put these in the dishwasher or microwave.