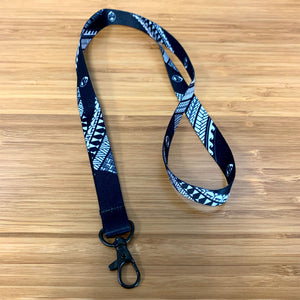 New product! Our new Guam lanyards are the perfect accessory for any islander. These functional lanyards are great for keys, ID's, badges or even your face masks. Just clip them on with our high quality, powder coated black clips. They can be worn around your neck, hanging from your shoulder, or wrapped around your wrist. They're a great way to not lose your keys.
This design features the Guam seal along with our modern tribal designed just for the Chamorro culture. It features the Chief Gadao cave drawings, latte stones, waves and basket weaving. Show off your culture wherever you go.

*Limited quantity available.
Features
Size: 17" in length
High quality print that won't peal
Comfortable, smooth material that doesn't suck to wear
Power coated black clips
Shipping
These are ready to ship!
FREE Shipping: 5-7 business days continental US, 10-15 business days rest of the world.