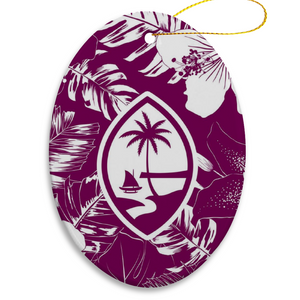 New Guam Christmas Ornaments! Add some island culture to your Christmas decorations this year! They make great gifts and family keepsakes for your children.

Features
Material: Ceramic
Size: 3.2inch x 2.3inch, approximate thickness: 0.16inch
Print Technology: UV print
Print Position: Double-sided printing
Type: Oval hanging ornament
Items: One(1) single ornament included
Shipping
Each ornament is made to order just for you and takes about 3-5 business days before it's shipped out. *This product is printed and shipped out from USA-based factory. It can only be sent to United States only.
$3.99 Standard Shipping: 3-7 business days